5% discount and exclusive advantages for registered customers
Enjoy our proposals in Coral Cotillo Beach
The best experiences for your trip in Coral Hotels

Discover Fuerteventura, where the sun shines and the wind blows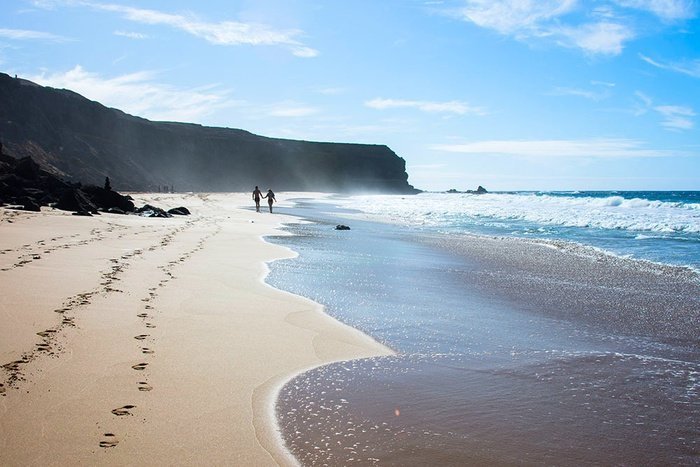 Coral Cotillo Beach
Enjoy an idyllic and unforgettable vacation in El Cotillo, one of the most popular virgin areas of the Canary Islands. In El Cotillo you'll be able to loose yourself for hours through paradisiacal beaches of white sand and crystal clear water. Enjoy the fascinating sunsets that turn the sky from ochre to violet in a matter of minutes, take a stroll through the charming harbor full of cozy traditional restaurants and don't miss the chance to try the delicious local dishes they offer.

Coral Cotillo Beach is located in the picturesque and quiet coastal town of El Cotillo, located in the municipality of La Oliva, in the Northwest of the island of Fuerteventura. This small town stands out for its relaxed and fresh character, far from the classic tourist crowds.
In Cotillo you will experience how time stops and magic begins.
You will always have a unique adventure at Coral hotels
A variety of destinations at your fingertips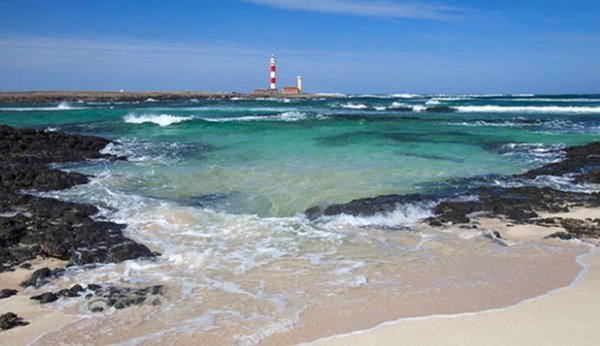 LOS CHARCOS
On the outskirts of El Cotillo, at the foot of the lighthouse Faro del Tostón, you will find Los Charcos, a group of small white sand and clear water beaches that spreads along 4 kilometers of coastline forming a number of small natural pools. If you are looking for a quiet place to enjoy a beautiful natural landscape, the coves of Los Charcos will not disappoint you.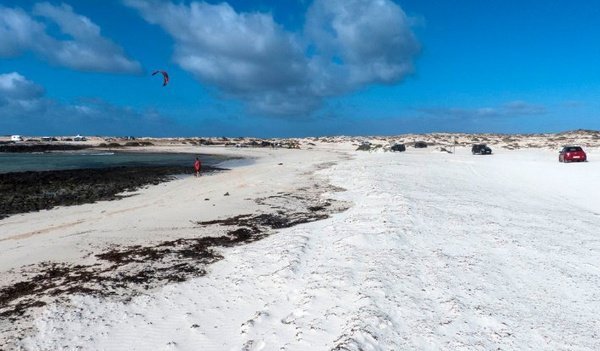 CALETA DEL MARRAJO
This authentic natural paradise is located about a ten-minute drive north of El Cotillo, near the Tostón Lighthouse. This lonely and beautiful bay with crystalline waters and fine white sand, dotted with small shallow lagoons of calm waters and bordered by black lava rock formations, is the ideal beach for families with young children, who can safely snorkel, for couples in search of a romantic and quiet place or simply for people who want to leave everyday life behind and rediscover inner peace.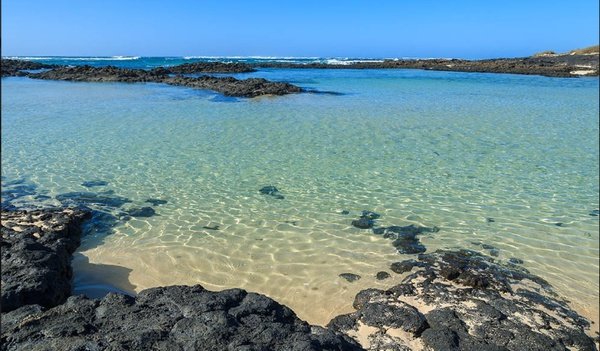 LOS LAGOS
Los Lagos are a group of small coves on the outskirts of El Cotillo. The area is surrounded by a natural reef that protects its waters and prevents the formation of large waves.
Like the rest of the beaches in the area, the coves at Los Lagos have white sand and crystal clear waters. A number of characteristic large black rocks emerge from the water forming shallow lagoons ideal for a calm bath.

You can access Los Lagos by driving along the road that leads to the lighthouse Faro del Tostón. Parking near the area is always available.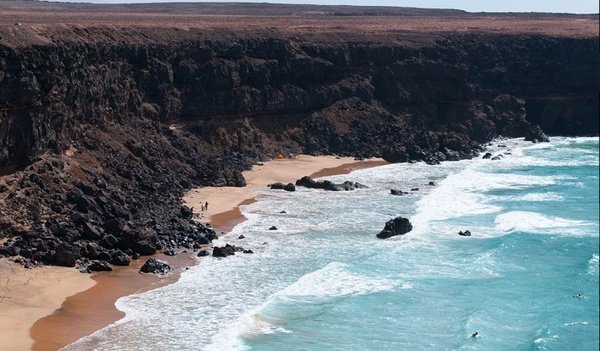 PLAYA ESQUINZO
A little further away, about 6 km south of El Cotillo, you will find Playa de Esquinzo, a 300 meter long sandy beach that is a solitary paradise for surfers or people seeking tranquility and retirement.
Surrounded by impressive cliffs about 15 meters high, the Playa de Esquinzo bay is immersed in a wild and romantic atmosphere. You can access the beach through a dirt path that borders the cliff and ends up with a difficult descent to the beach. As soon as you arrive, you'll find all your efforts have been worth it.

If you are a surf lover, you should be aware of the strong sea current and the high waves this beach features. These two atributes, along with the presence of rocks in the water, make the pratice of water sports only recommended for highly skilled athletes and not for beginners.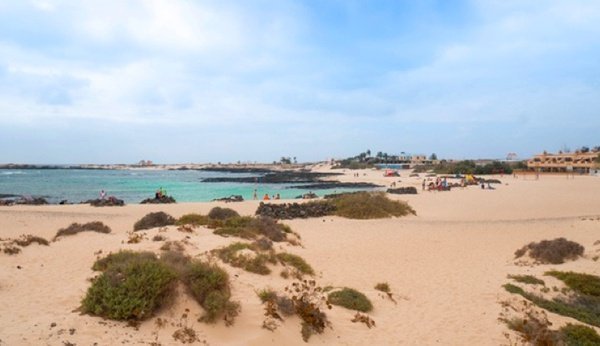 PLAYA DE LA CONCHA - CONCHA BEACH
Named after its shape similar to a seashell – concha, in Spanish - this charming bay is one of the most popular beaches in Fuerteventura and has been awarded with the Blue Flag for the great quality of its water, facilities and services. This beautiful beach with turquoise green water and white sand is framed by a sea of volcanic rocks that gives a unique contrast to the scenery.

This place is ideal for families due to its horseshoe-shaped reef that ensures a shallow depth and calm waters with almost no waves - a very swimming-friendly beach that both children and adults will love.
Dare to practise rowing on the calm waters of Playa La Concha, or try snorkeling and discover its incredible underwater life.
Facilities in the area: parking, restrooms and lifeguard services.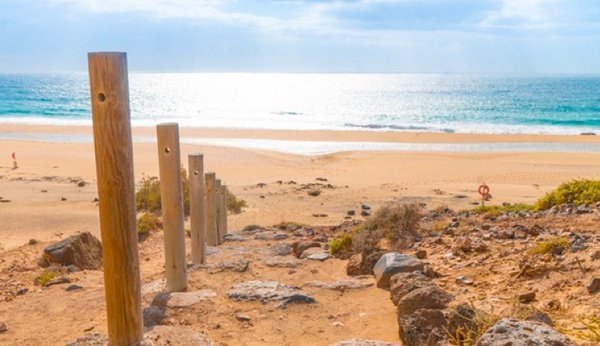 PIEDRA PLAYA OR ALJIBE DE LA ABUELA
Located 1km south of El Cotillo, this extensive and solitary white sand beach, dotted with large volcanic rocks and gifted with large waves and strong winds, spreads over 1,500 meters and is a true natural paradise for surfers, windsurfers and advanced kitesurfers.

Piedra Playa is located in a virgin and isolated environment that can be accessed through wide dirt roads, on foot or by car. From the top of the cliffs you will be able to appreciate an impressive landscape of rocky natural walls, fine bright sand, a spectacle of waves, salt and nature in all its glory.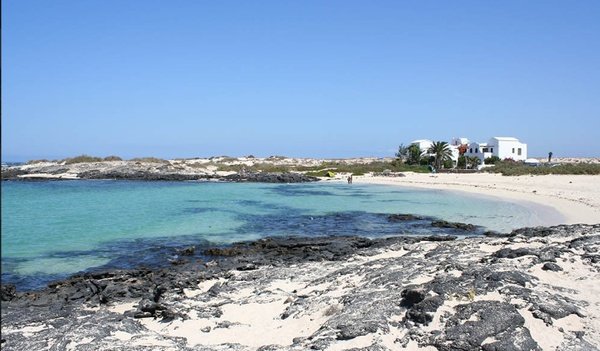 EL CALETON
Located to the south of El Cotillo, El Caletón is a small and charming cove of white sand on the outskirts of the village that stands out for its great beauty. It is an excellent place for diving because of the beauty of its reefs and its rich underwater life.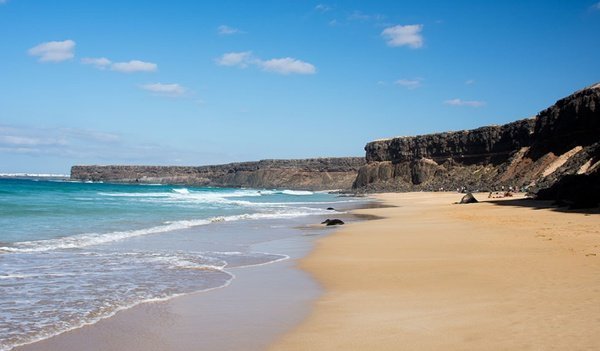 ESCALERAS BEACH
This extensive and popular surfer beach, approximately 600 m long, also called Playa del Águila, is located on the northwest coast of the Canary Islands, about 5 km south of the fishing village of El Cotillo. The beach is accessed by a dirt path along the coast, the descent to Playa de la Escalera only possible through a steep staircase. This impressive bay is surrounded by imposing cliffs and offers a totally natural landscape where the water is clear and clean.

This beach is especially recommended for beginner surfers, although you should always pay close attention to the waves and the current, as there is no lifeguard service.