5% discount and exclusive advantages for registered customers
Festivities of El Cotillo 2022: live them like any other neighbor! | Coral Hotels
News and novelties in Canary islands
Festivities of El Cotillo 2022: live them like any other neighbor!
Fuerteventura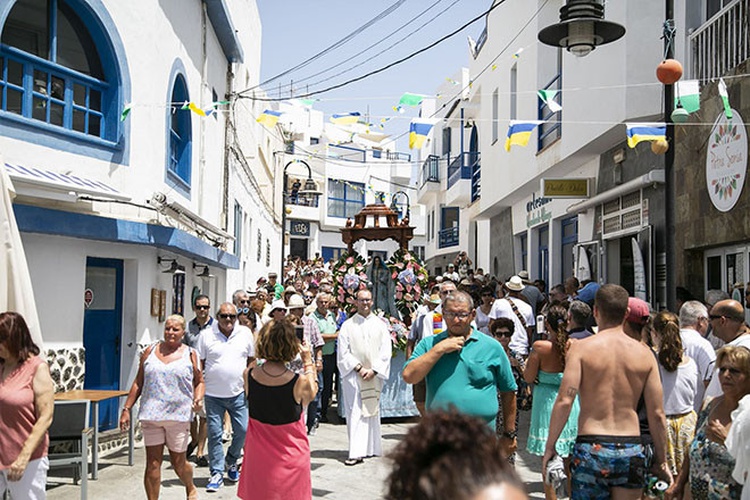 The fishing town of El Cotillo, a paradise for lovers of water sports, is known for its endless beaches of white sand and crystal clear water and for its dreamy sunsets. But this small seaside enclave also keeps other treasures: it is one of the few coastal places that still remain available to enjoy a slow type of trip, an uncrowded place where travelers can fully live the experience of connecting with people, their culture, gastronomy, their natural environment and rediscover themselves.
The town of El Cotillo has done an amazing job to preserve its oldest traditions, while at the same time creating other more contemporary traditions in which all residents and visitors actively participate.
This summer you will be able to enjoy this cultural immersive experience by participating in this program of activities for all ages, staying at Coral Cotillo Beach, located in the heart of town.
August 16-28: Fiestas del Cotillo in honor of our Lady of Good Voyage
It is one of the most popular festivals in the north of Fuerteventura with a very varied program for all ages. On its big day, August 21, the procession and boarding of the patron saint of the city is celebrated. Her virgin is paraded by the fishermen through the town, accompanied by Canarian folk music, to her muellito, where the sailors wait for her to start the maritime procession.
These days one of the oldest traditions in the Canary Islands is celebrated, "La Calada" (pronounced La Calá). At low tide, the town's fishermen head to Playa del Río, near the Cotillo Lighthouse, where they release the "chinchorro", a traditional fishing net. The fish they collect is taken to the muellito where the "jarea" takes place: they cover the fish with concentrated salt, they let it dry in the sun for a few hours in the pebbles and they refrigerate it until the day of the traditional barbecue of "jareas", "wrinkled potatoes" and "gofio" to which all the inhabitants and visitors of the town are invited. This year it will take place on August 25.
Other celebrations to highlight are the Meeting of Young Soloists of the Canary Islands, the Gran Sangría Water Festival, the Bola Canaria and fishing tournament and as a final touch, the traditional nocturnal Procession where, as tradition dictates, they reunite the Lady of the Good Voyage of El Cotillo with San Martín de Porres, patron saint of the neighboring town of El Roque. The festivities culminate with a great pyrotechnic show and with shouts from the sailors who cry "LONG LIVE THE VIRGIN OF THE GOOD VOYAGE".
Immerse yourself in the local traditions and culture and experience these festivals like any other neighbor by staying at Coral Cotillo Beach.
BOOK NOW
Go back