5% discount and exclusive advantages for registered customers
Coral Hotels promotes long stays in its establishments to telecommute from the Canary Islands | Coral Hotels
News and novelties in Canary islands
Coral Hotels promotes long stays in its establishments to telecommute from the Canary Islands
Fuerteventura
Tenerife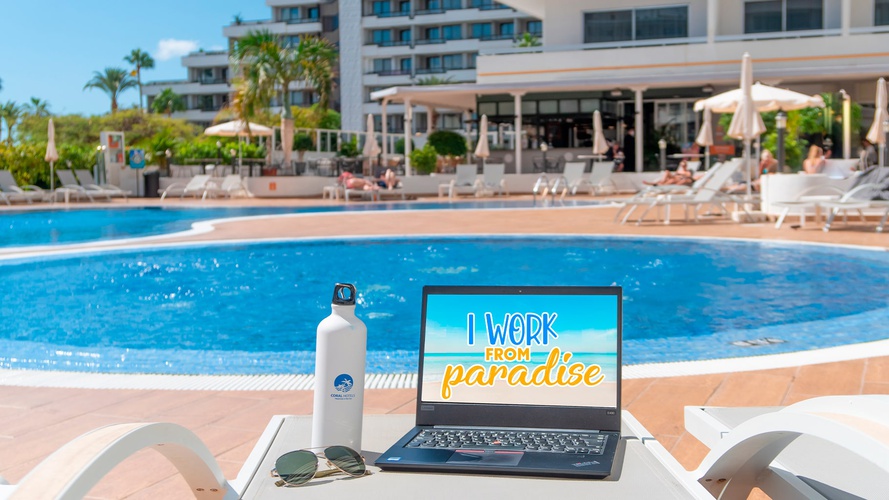 Coral Hotels has launched a long-stay discount package aimed especially at remote workers.

Taking advantage of the telework boom that the world has experienced in recent months due to the COVID-19 pandemic, Coral Hotels presents itself as an alternative to the home office and offers its clients the possibility of turning their vacation spot into a temporary office.

With this option, professionals from anywhere in the world will have the chance to spend a season working from an idyllic location and with all the comforts of staying in a three or four star hotel.

Roberto Barreiro, CEO of Coral Hotels, assures that "one of the main advantages of working from a Coral Hotels establishment is that all our apartments have a kitchen, so the client can prepare their own meals just as they did at home. without the food supplying an extra cost ".

Clients will be able to use all the hotel facilities and services so they will be able to access the swimming pool, gym, restaurant and will have room cleaning service throughout their stay.

"From the Coral Hotels website it is now possible to book with these special long-stay discounts, which range from a 12% discount on stays of more than 14 days to more than 20% on stays of more than 28 days", explained Barreiro .

The chain believes that combining work and vacations - also called workation - is easier than ever today.
Go back