5% discount and exclusive advantages for registered customers
Coral Hotels launches its new website | Coral Hotels
News and novelties in Canary islands
Coral Hotels launches its new website
Fuerteventura
Tenerife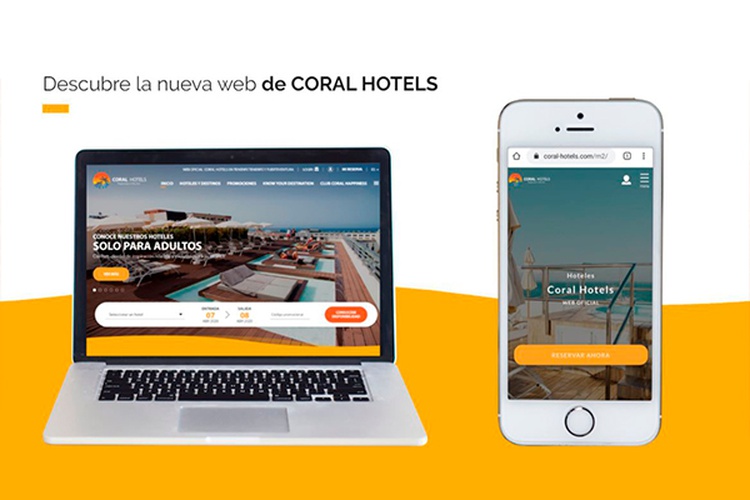 The delicate situation in which the tourist industry finds itself in is putting into operation all the marketing machinery in the sector. In this context the canarian chain Coral Hotels is launching its new corporate website, at the time when differentiation and renewal are most necessary. Coral Hotels has designed a more segmented website, which aims to offer each client the vacation that best suits their needs.

This launch, in which the hotel chain has been working together with Roiback for months, is the final touch of a whole series of actions developed to define, differentiate and bring personality to each of the Coral Experiences.

The new Coral Hotels website − www.coral-hotels.com − is more intuitive and functional, and has a modern, fresh and minimalist design, matching the personality of the brand. One of the features that stands out the most is its new search engine, which allows guests to filter the results according to the destination or the tourist experience that suits them best: Adults Only, Coral Families, Nature & Adventure or Exclusive Experience. Another of its differential values is that each of the properties now has a section that highlights its most characteristic value: a complete guide to the nature that surrounds Coral Los Silos, a compilation of the most spectacular beaches in El Cotillo or a page dedicated to the Coral Teide Mar Cycling Center, which includes its own cycling routes, among other examples.

The goal of this release is not just to reach a more segmented customer. The loyalty of repeat customers also plays a fundamental role, and it will be a key tool to alleviate the tourism crisis of COVID-19. In this sense, the new website promotes and gives great prominence to the Coral Happiness Club, the loyalty program of Coral Hotels that includes great discounts and extra benefits for repeat customers.

Roberto Barreiro, general director of Coral Hotels, considers that "the efforts made to fight COVID-19 must be maintained when the activity resumes: "Among the measures being taken in this regard - he says - we can highlight the new cleaning and disinfection protocols, the installation of hydro-alcoholic gel dispensers in all hotel facilities and the restriction of capacity in common areas". Regarding bars and restaurants, "showcooking and food served in individual portions will be prioritized at the buffet, the safety distance between the tables will be ensured and shifts will be established for meals", explains Barreiro, adding that "all our hotel rooms have its own fully equipped kitchen, a plus that our clients value very a lot".

The chain is also taking measures in favor of digitization, which include the implementation of online check-in and the elimination of physical cards for bars and restaurants.

All this information, as well as accommodation offers, a complete tourist blog and other information on the destination is available on the new website www.coral-hotels.com.
Go back