5% discount and exclusive advantages for registered customers
Coral Hotels launches the new Brand image for its four tourist experiences | Coral Hotels
News and novelties in Canary islands
Coral Hotels launches the new Brand image for its four tourist experiences
Tenerife
Activities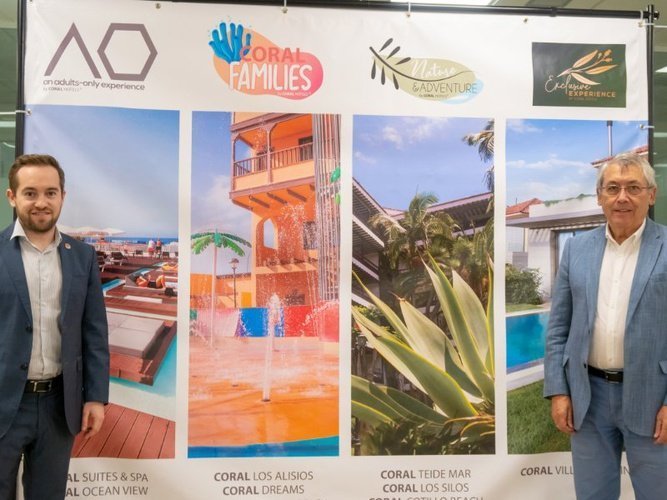 The Canarian hotel chain Coral Hotels will present this week at Fitur the new brand image that they have developed to define, differentiate and give personality to each of their tourist experiences. The central axis of this new corporate design is the creation of four logos for the four hotel concepts that Coral Hotels features: Coral Families, Nature & Adventure, Adults Only, and Exclusive Experience. The new logos are the starting point for a whole series of design actions aimed at building identity and defining the character of each of the experiences.
The Coral Families concept includes the company's most family-friendly hotels, those that share two main characteristics in common: family-designed facilities and services and an unbeatable location next to beaches and leisure areas. Coral Compostela Beach, Coral Compostela Beach Golf, Coral Los Alisios and Coral Dreams are the properties that bear the "Coral Families" seal.
Meanwhile, Adults Only is an experience created for those who want to enjoy an oasis of calm in the middle of the liveliest tourist areas. It includes three adults-only hotels located in Las Américas and Costa Adeje: Coral Suites & Spa, Coral California and Coral Ocean View.
Lovers of nature and active tourism will find in Nature & Adventure their perfect accommodation. The Coral Los Silos hotel is located in the north of the island and is especially recommended for lovers of hiking and mountain routes. Coral Teide Mar is located in Puerto de la Cruz, a hotel that has its own cycling center, which makes it the perfect starting point for cycling routes. Also under this seal is the most recent acquisition of the chain, the Coral Cotillo Beach hotel, on the island of Fuerteventura. A destination specially indicated for the practice of surfing and water sports.
Exclusive Experience is, as its name indicates, the most exclusive product in the chain. Under this concept you Will find Coral Villas La Quinta, a splendid complex of villas located in the exclusive area of La Quinta.
The launch of this fresh and Dynamic brand image will culminate in the coming weeks with the premiere of a completely renewed corporate website. Two novelties that represent a step forward in the process of evolution of a company in constant growth.
Go back