5% discount and exclusive advantages for registered customers
Coral Hotels announces its collaboration with the renowned illustrator Mauro Martins | Coral Hotels
News and novelties in Canary islands
Coral Hotels announces its collaboration with the renowned illustrator Mauro Martins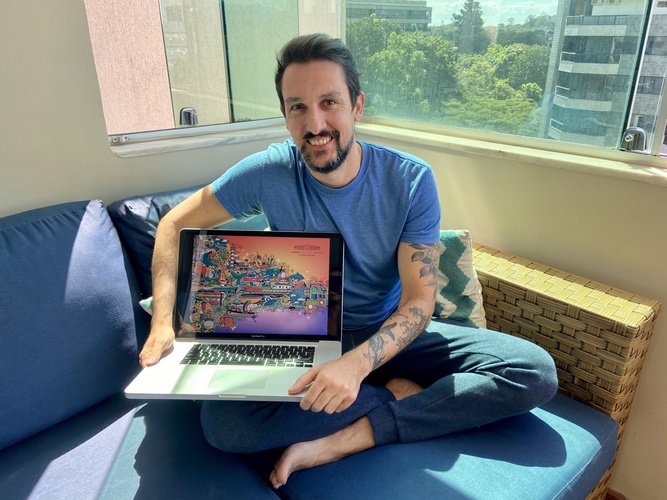 The illustrations designed by the Brazilian creative are inspired by El Cotillo and will be part of the decoration of the recently renovated hotel

The reopening of Coral Cotillo Beach - a hotel belonging to the Canary Island chain Coral Hotels - will feature an important revelation: the collaboration with the renowned Brazilian illustrator Mauro Martins. This was announced at the international fair FITUR by Roberto Barreiro, General Director of the chain, who added that "this project will be an extra attraction, not only for hotel guests, but for all visitors of El Cotillo who will be able to enjoy these illustrations inspired by the island and created by an internationally renowned artist "

Mauro Martins is a reference of the doodle style: his work has received numerous international awards, including El Ojo de Iberoamérica, Brazilian Design Biennial or AI-AP (American Ilustration-American Photography). Moreover, in 2019 he was selected by the Lürzers Archive Magazine as one of the 200 best illustrators in the world. His clients include internationally renowned brands such as Absolut Vodka, Amarula, Domino's Pizza, the Superbowl and Facebook.

For this collaboration with Coral Cotillo Beach, Mauro Martins has created several pieces of illustration that aim to reflect the essence of El Cotillo and Fuerteventura. These illustrations will serve as decorative elements for different areas of the hotel, including a large mural that will capture, among other things, the most emblematic corners of El Cotillo, the flora and fauna of Fuerteventura and the values of Coral Cotillo Beach. In this sense, Barreiro has commented that "sustainability and respect for the environment will play a leading role in this series of illustrations, as they are one of the most important pillars of the new Coral Cotillo Beach project"

Not only will these pieces of illustration be integrated into the new decoration of the recently renovated hotel, they will also be used for a charitable purpose: they will be printed in t-shirts, key rings and other merchandising elements, with a percentage of the proceeds from their sale being directed to charities.

Coral Cotillo Beach will reopen its doors in the summer of 2021 after a major renovation that has allowed it to go from the three-star to the four-star category.
Go back